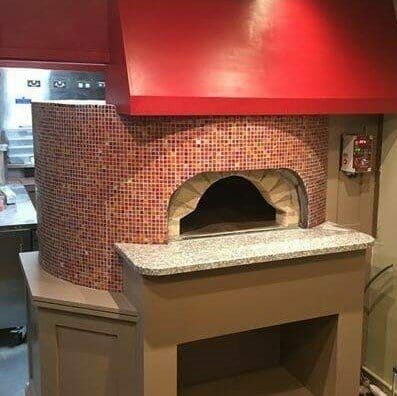 Designed at the end of the 70s, mod MEC 80 is inspired in the name by the "European Common Market"
Whit this oven Ambrogi revolutionized the market.
The idea, as simple as it was successful, was intended to be a pre-assembled wood-fired oven ready to be delivered and installed on-site without the need for specialized labor.
It was instant success.
With the oven mod. MEC 80 Ambrogi can be considered the creator of this particular piece of restaurant equipment on the world market.
Today, after so many years, with the name of mod. BASE, this model is continuously in demand all over the world.
The BASE/MEC 80 is a pre-assembled mono-block product to be installed and customized on site. It is up to you to insulate, install and decorate it. As proven by the creativity of our many customers, the oven can be adapted to any decor scheme to suit your restaurant.
With an integrated pallet and ready to be lifted by a crane arm, it requires no packaging, since the steel structure is designed to be transported without damage.
In cases where it is not possible to install a pre-assembled oven (the doorway is too small, no room for a crane, forklift etc), we recommend our COMPONENTS KIT, allowing you to assemble the oven on site.
The size and shape of the mouth are proportional to the size of the oven, to ensure minimum fuel consumption and maximum performance.
On request, a round version is available. We can advise you which is more appropriate, on the basis of your working practices and the type of pizza you plan to serve.
The threshold is a useful marble or stainless-steel shelf on the front of the oven, just large enough to allow optimum handling of pizzas. Larger thresholds can be fitted for the production of tray or larger pizzas.

Like all our pizza ovens, the BASE/MEC 80 can also be gas-fuelled.